Blå SPA - How to play around with light elegantly within a humid space
"Blå SPA" is a Nordic style spa facing the river Seine in greater Paris. I was commissioned to design and install all its window treatments and space dividers. This is a good example of a design project tailor-made for a humid interior.
The Blå Spa is literally a bubble of wellness where the five senses of the clients are stimulated. It is also an environment where humidity and heat are always present. I was commissioned to dress up all the windows and structure the spaces using the most appropriate materials.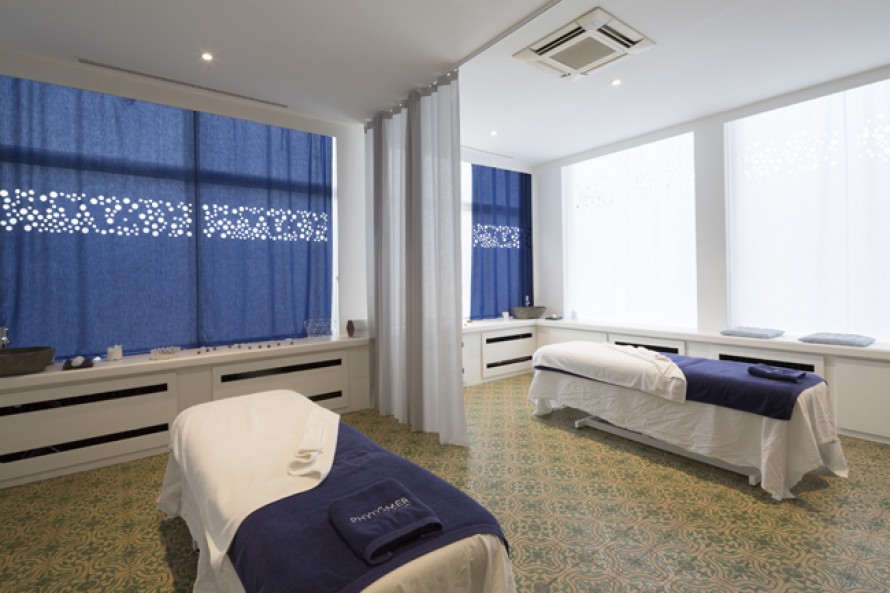 Textile solutions brought to visual identity

I decided to work around the visual identity of The Blå Spa which is minimalist and simple. The first intention of the textiles was to preserve the sense of privacy while creating a homely atmosphere. My client also wished her spa to be as appealing to men as to women so that all clients would feel equally comfortable.
"Blå" means blue in Swedish and blue is the only color in the brand's logo. So it became rapidly evident that the same blue should be used in the fabrics too. I also played around with the circle form present in "å" and integrated it within my "bubbles" laser cut design on the flat curtains. This helped counterbalance the stark and somewhat cold aspect of the materials used in the interior such as stone and concrete. The idea was to create a unique visual impact by finding the right balance between the different materials, hard and soft.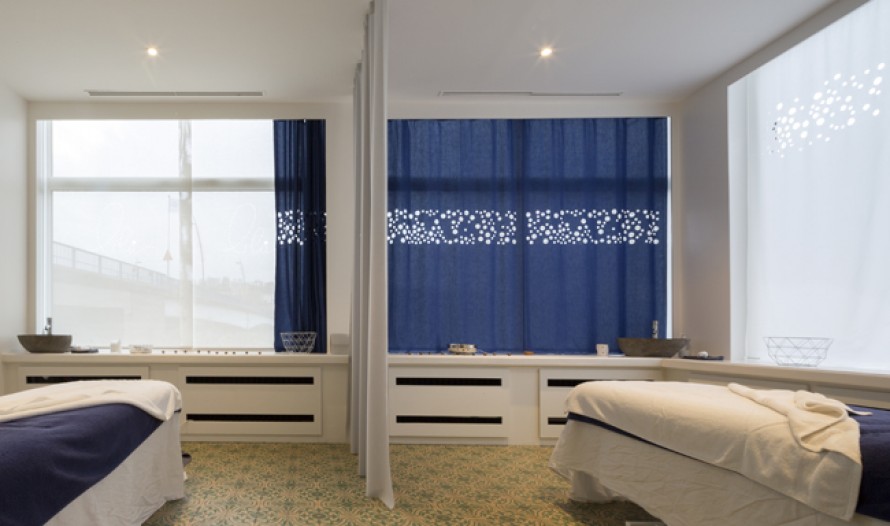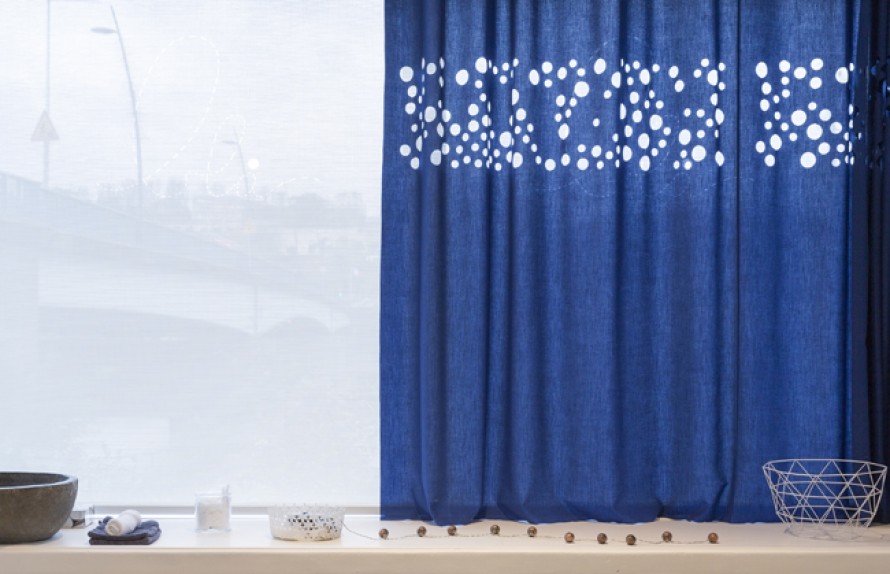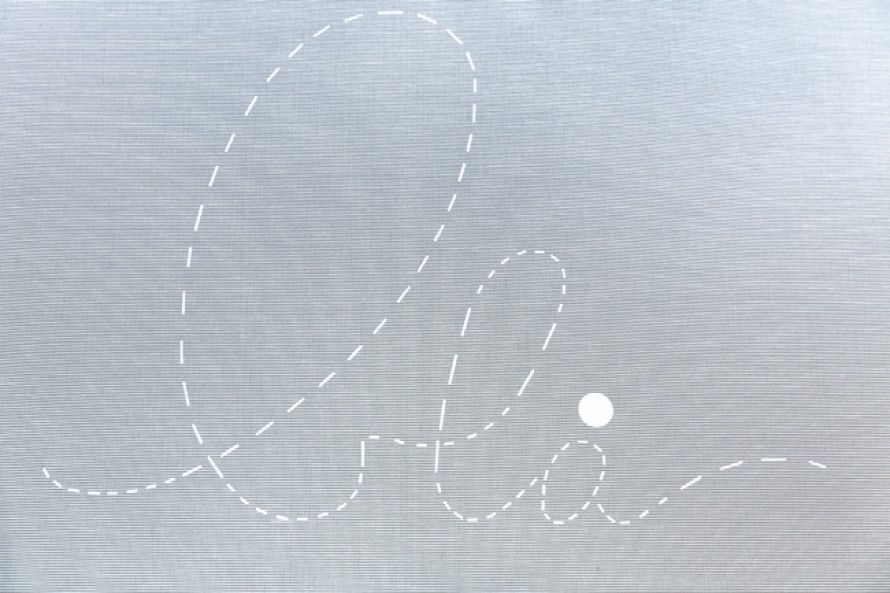 Textile solutions brought into a humid environment

Another constraint of the project was to use textiles that have functional values as well as design value. All the fabrics used in this space are stable to variations in humidity and temperature and are long lasting. This is one of the elements that makes my work different in the textile business : technical and functional use of design driven fabrics.
I like to work hand in hand with my clients and help them find that right balance specially when they tend to forget about functionality in favor of aesthetics. Each fabric has its own technical features and I think those features should be put into service of the users according to their needs. This also guarantees the durability of the materials as they are adapted to the use we make of them. According to my client, after nearly one year, all the fabrics in her spa still look as new as the first day...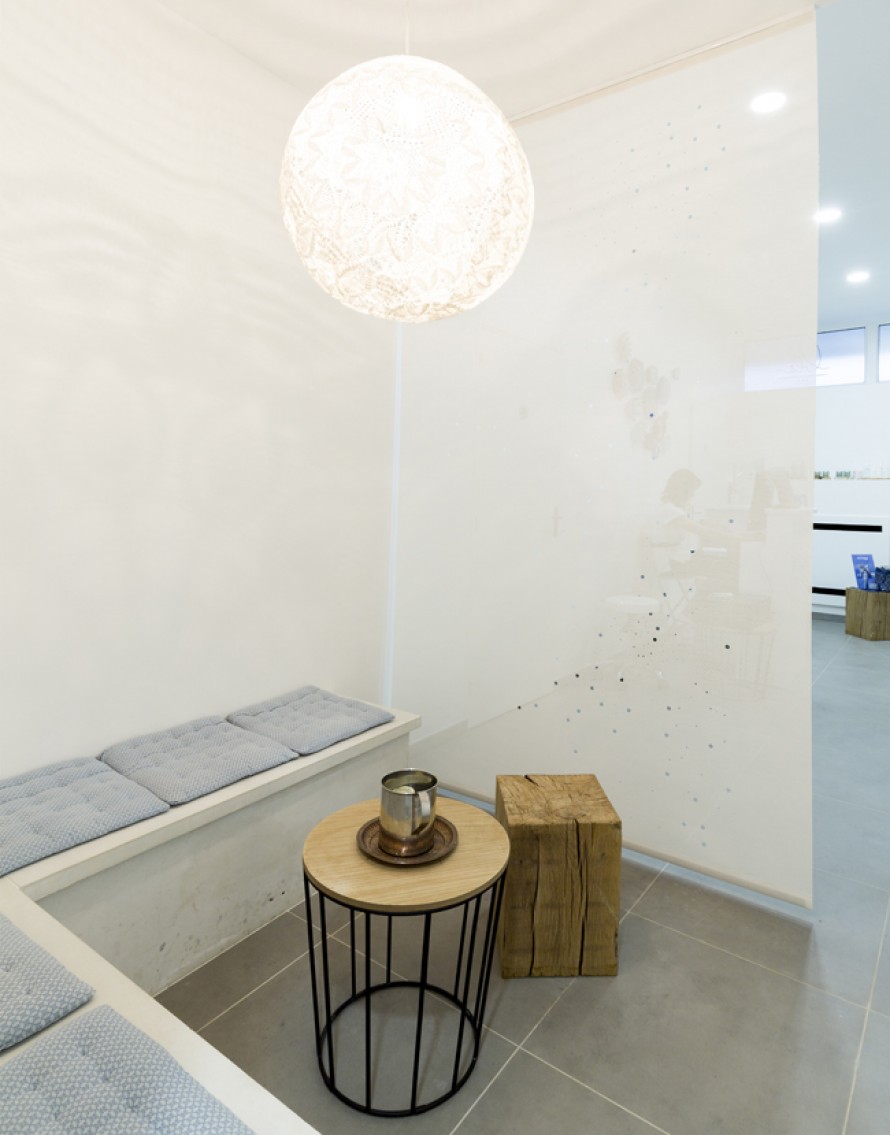 Photo Credits: Bernard Taboureau
For this project I have used :
White sun screen panels offering flow of light and one way transparency towards the view of the Seine, during day time.
Translucent flat curtains in ultra marine blue for use during the evening. These provide the clients with the necessary visual privacy. 
Translucent flat curtains in light grey used as space dividers. These separate the massage room into two spaces whenever needed.
I wish to thank my client for her trust and her kind words

" Thank you Lily for having dressed up with light The BLÅ SPA. A breathtaking result in terms of elegance, ergonomics and function! The perfect balance between beauty of the design, simplicity in everyday use and durability of the materials applied in a warm and humid interior. I have at last found a designer who listens to the client and works around their specific needs."
Autres articles
I am proud to present you a recent project accomplished in 2016 for Accenture Paris, in collaboration with Tetris Design & Build and Kardham.

I am pleased to present you one of our recent projects accomplished for : AXA, the second most important insurance group internationally.

I am proud to present you "SIESTA", my lightest & freshest product, also a best seller for nearly 20 years now : The "siesta" sliding panels are made of a transparent gauze fabric, silk screen printed with an opac white paste that brings relief to the print.