We have two brands:
lilylatifi - rendre visible l'invisible
This brand is dedicated to tailor made products for which we need to work hand in hand with the final client (private or corporate).
This second brand allows a more simplified way of production enableling us to work with intermediate partners (showrooms & shops).
Main sales point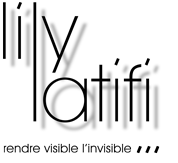 LILY LATIFI'S SHOWROOM
37bis, rue de Montreuil
​75011 Paris
France
tel : +33 1 42 23 30 86
or by email via our contact form
In our showroom we offer bespoke products adapted to your private or corporate projects. Even the designs and their placement on the panels, curtains and blinds are played around with according to your needs in terms of light, vision and function.We'd like to spend as much time as necessary on your inquiry. That's why we can only welcome one client at a time so please make an appointment beforehand.
Usa & canada

Lisa Fontanarosa Collection
office : 505 872 1929
email : hello@lisafontanarosa.com
site: www.lisafontanarosa.com
 
UK & IRELAND

The Office Furniture Family Ltd
Lawrence Rivers
mobile : 07887 628542
office :  020 3897 2235
email : lawrence@toff.ltd 
site : www.theofficefurniturefamily.com
GERMANY


You can find a selection of our products at the addresses below:
Designer-home: Havelstrasse 16 - Exlibris Kreativhaus - 64295 Darmstadt - Germany
tel: 00 49 (0)6151 870 34 32
Site: www.designers-home.com
Erich Betzel GmbH: Zeilsheimer strasse 60 - 65719 Hofheim am Taunus - Germany.
tel: 00 49 (0)619 220 99 60
Site: www.erich-betzel.de
If you have a showroom of contemporary furniture and interior design and that you'd like to represent our "invisible" collection, please contact us by email via our contact form